Pivot Energy's New ESG Approach
By Pivot Energy February 9 2022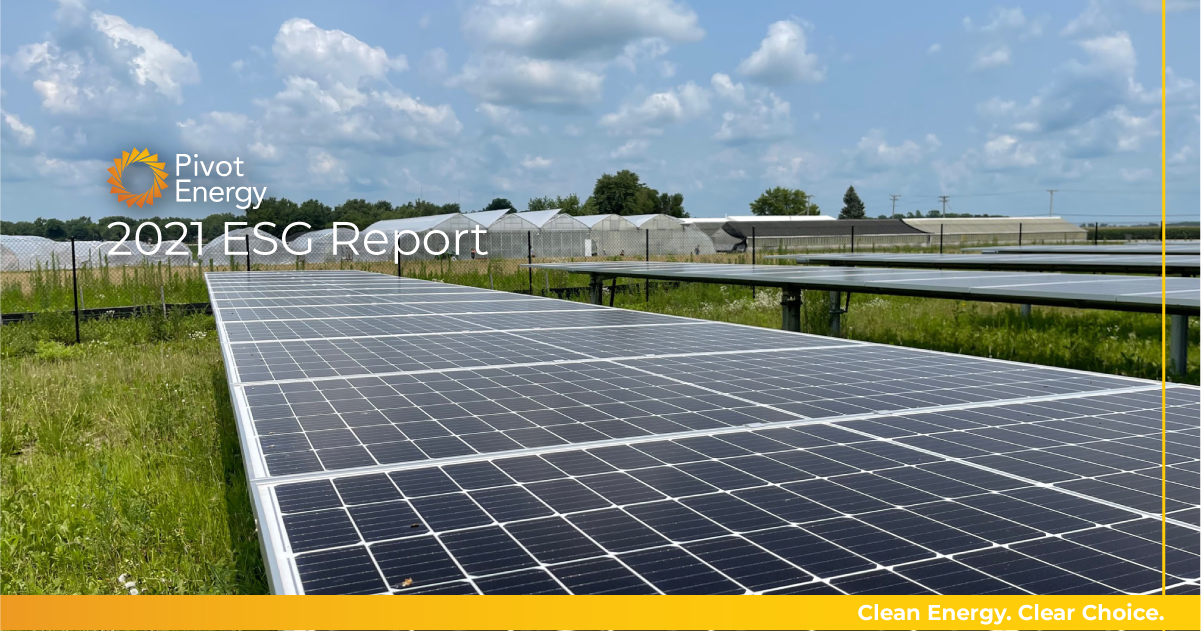 For years, Pivot Energy has released an annual Impact Report to reflect on the accomplishments of the past year and consider additional opportunities for us to positively impact the communities we serve. Moving forward, this report will be known as the ESG Report as we transition from a triple bottom line (3BL) to an ESG framework. In this year's inaugural report, we cover key metrics for environmental, social, and governance factors.
ESG is an acronym that stands for Environmental, Social, Governance. For Pivot, we consider the following:
Environmental Stewardship: Consideration of resource usage, pollution, deforestation, climate impacts

Social Leadership: Standards for health and safety, working conditions, workforce diversity, relationship to the local community

(Responsible) Governance: Organizational structure and diversity in leadership, anti-corruption measures, political activity including donations, tax strategy
Please enter your email to view or download the
2021 ESG Report!
Why ESG?
We see our transition to an ESG framework as a natural extension of the 3BL values on which Pivot Energy was founded. After a lot of reflection, research, and consulting with the experts, we have come to the conclusion that talking about our triple bottom line commitments in terms of ESG will help to:
Communicate what we stand for more effectively
ESG has become common parlance for many of us in the business world, especially in the clean energy arena. It's a more universal terminology, allowing easier and more effective communication of ideas.
Better serve our clients
In recent years, we've seen an influx of clients asking us to help them achieve their ESG goals. By shifting to an ESG model, Pivot Energy is able to better understand our clients' needs in this endeavor, and also help our clients more easily fulfill their need for ESG-aligned vendors.
Hold ourselves accountable
We see the ESG guidelines as a new way to hold ourselves accountable as we work toward our goals. ESG offers a well-established set of parameters for company operation, covering everything from carbon emissions, to pay parity, to best practices for filing taxes. For us, it's both exciting and encouraging that should we realize a need for improvement in one area of our operation, we can look to ESG guidelines for goal-setting inspiration and actionable advice on how to track our progress.
These guidelines also function as a way for newcomers to check in on Pivot Energy's efforts towards environmentalism and social responsibility. We think that pulling back the curtains and letting the sunshine in, so to speak, will better illuminate areas for improvement in our company.
Our Approach to ESG
We view ESG as building upon our existing foundation of the triple bottom line approach and our operation as a certified B Corporation. To that end, we set out to establish an Environmental, Social, and Governance Committee (ESG Committee) to support Pivot Energy's ongoing commitment to health and safety, corporate social responsibility, corporate governance, sustainability, and other public policy matters.
We evaluate every internal decision on environmental, social, and governance factors to determine if our actions will result in a net positive impact on the community, our employees, customers, shareholders, and the environment. This impacts everything from how we choose suppliers, to how we site our solar projects, to how we compost food waste in our Denver office.
Highlights From Our 2021 Report
The 2021 ESG report highlighted some areas for improvement, as well as many great successes:
Pivot Energy donated $50,000 to the Pueblo Hispanic Education Foundation (PHEF) to create southern Colorado's first Renewable Energy Scholarship Fund. Through this program, we are supporting 25 local students pursuing careers in the renewable energy industry.

As solar asset owners, we are partnering with Omnidian to manage the operations and maintenance (O&M) for our projects. Together, we plan to implement sustainable vegetation management techniques, including using grazing animals, for all our community solar and other ground-mounted sites.

Pivot Energy continues to exceed the national average for gender diversity in the solar industry, with nearly 40% of our workforce made up of women.
How Pivot Energy Can Help with your ESG Goals
Pivot Energy has built a reputation as a company that values not just profit, but also people and the planet. Although Pivot Energy has always seen the values underlying ESG to be a central part of the work we do, we know that the formalization of this approach will push us even further and help our clients even more. If your company needs an ESG-partner as your work to achieve your own ESG goals, contact the team at Pivot Energy today. We've got you covered.