Behind the B: Celebrating B Corp Month at Pivot Energy
By Pivot Energy March 18 2022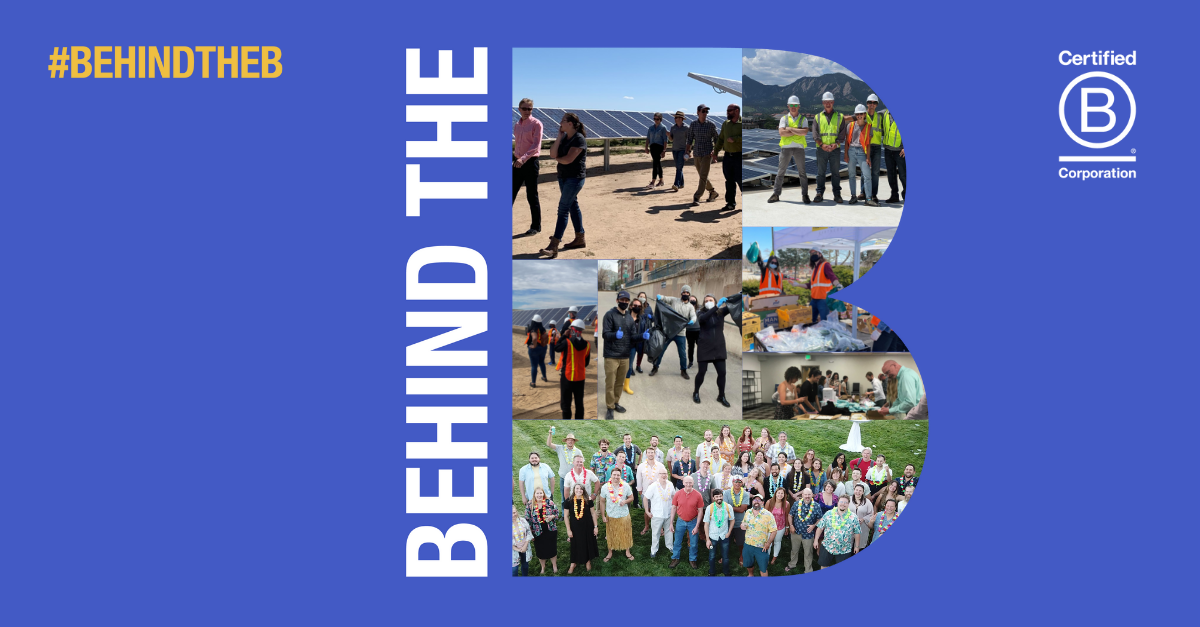 This March, Pivot Energy is excited to celebrate B Corp month! Pivot has been a B Corp for many years and views this designation as an excellent complement to our ESG Strategy. For a business like us that wants to do good for our people, community, and planet, participating in a movement that encourages strong goals and metrics to measure our progress pushes us to be a better company.
Pivot Energy's B Corp Certification: The Origin Story
Pivot was founded in 2009 with a budding team and a strong commitment to environmentalism and community involvement. From its inception, the company's founders operated the company with a triple bottom line approach that aimed to balance the priorities of people, planet, and profit. While B Corps were not yet prominent in the local area of St. Louis, the team identified the B Corp certification as a perfect fit for such a values-driven company. Thus, in 2013 Pivot became the first certified B Corp in St. Louis, Missouri.
Since then, Pivot has gone through a massive expansion, bringing on over 100 new staff, opening new offices across the country, and charting new endeavors while staying true to our values and recertifying as a B Corp several times. In 2021, Pivot Energy faced one of our most significant milestones yet: being acquired by ECP, a nationally acclaimed investor with an impressive reputation in the renewable and sustainable solutions sector. We are excited for what our future holds with their resources and expertise and are eager to renew our B Corp certification this summer as we take on this new chapter with ECP.
What Does it Mean to be a B Corp?
In order to achieve B Corp certification, prospective companies must exhibit transparency, make a legal commitment via their corporate governance structure, and demonstrate high social and environmental performance, as measured by the B Impact Assessment. B Corps must then recertify every three years or after other major changes, such as an acquisition.
At its core, Pivot pursued the B Corp designation and continues to maintain it because we feel being part of the B Corp movement encourages us to do better by offering actionable metrics and a point of comparison to help us stay accountable.
Behind the Scenes: How Being a B Corp Impacts Pivot
This year, the theme for B Corp month is going behind the scenes—to reveal how B Corps are making business a force for good. In today's blog, we're excited to share the myriad ways being a B Corp affects the work we do at Pivot.
When Pivot underwent our B impact assessment, we automatically scored higher because we are in the renewable energy business. But for us, that isn't enough. We strive to achieve a positive impact beyond the megawatts of solar we install, and the B impact scorecard helps us measure our progress toward achievements. We can use the scoring system to evaluate supplier relationships and sourcing, internal hiring practices, decisions about what clients to take on, how we interact with the communities we build projects in, and so much more.
For our clients, our B Corp certification has become increasingly important. Clients have always known they can count on us to take a sustainable, community-oriented approach to developing solar, but these days, many clients are asking to work with a B Corp by name. The B Corp certification gives clients confidence that our sustainability claims are verified, and working with a B Corp can even help them meet their own corporate responsibility goals. We don't just talk the talk of a green business, we walk the walk too.
The B Corp designation is a point of great pride for our staff. Our team can be confident knowing that an independent third party has verified our claims. Living out our values helps us attract and retain a talented workforce that cares about our mission of accelerating the clean energy transition in a just and equitable way.
There's No Better Time to be a B Corp!
For Pivot, being a B Corp is yet another great way to hold ourselves accountable, identify new areas for improvement, and interact with other inspiring companies. We want to be part of a community of businesses that operate as a force for good. We also want to show that you can grow and keep doing good—that it's possible to scale while maintaining your values. If more companies become B Corps and dedicate themselves to truly living out their values, our world is going to be a better place.
If your business is interested in becoming a B Corp and has questions, reach out to us—we'd love to help, share insight about our own experience, and offer guidance on the journey to earning the B Corp certification