Pivot's Triple Bottom Line: A Brief History & Lessons Learned
By Pivot Energy April 2 2020
Author: Chad Schubert
Director, Internal Operations
As a Triple Bottom Line (3BL) company, measuring success in terms of People, Planet, and Profit is baked into the DNA of Pivot Energy, but achieving success is not always easy. With a decade of operating under a 3BL structure, we want to share our successes, failures, and teachable moments to encourage other businesses to pursue a 3BL approach and grow the B Corp movement.
The Triple Bottom Line Was Part of Pivot's Foundation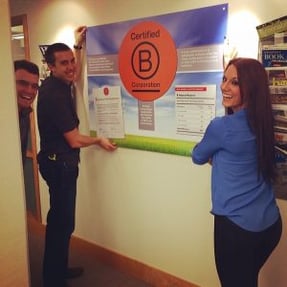 When Rick Hunter founded Pivot Energy in 2009, he wanted to create a company that provided meaningfulness to its employees while leaving a lasting positive impact on the environment and the local community. The Triple Bottom Line philosophy of measuring success not just by profits, but also by its effects on the environment, workers, and community, echoed Rick's vision. The Triple Bottom Line approach takes Corporate Social Responsibility to the next level, seeking success in each bottom line as an end of its own, and focusing on all stakeholders rather than just shareholders. To hold the company accountable to its three bottom lines, Pivot needed metrics and third-party verification of its efforts. We decided to become a Certified B Corp by completing the B Impact Assessment.
The Benefit Corporation (B Corp) Certification
Performing the Assessment was transformational in how Pivot evaluated its three bottom lines.
It gave weight and measurement to the seemingly aspirational goals we were seeking as a company. Upon completion, Pivot became the first Certified B Corp in St. Louis (Pivot's original headquarters) in 2013.
Additionally, the Assessment was a valuable tool to compare ourselves against other B Corps and to see where we could improve. For example, we learned that while our environmental score put us in the top 10% of B Corps (and resulted in Pivot being a "Best for the Environment" honoree), our Community score needed improvement. Learning what is valuable to a community, we have made an effort year over year to improve our processes and community score.

How We Hold Pivot Accountable
Prior to our B Corp Certification, we participated in St. Louis' Green Business Challenge, which provided businesses with environmental metrics to pursue. We created a "Green Team" of interested employees that met monthly to brainstorm tactics and policies to improve our score as a company. When we certified as a B Corp, we used the Green Team concept as a springboard for the creation of a 3BL Committee. The Committee focuses on employee initiatives, community engagement, and improving internal structure and processes. The Committee is made up of a diverse cross-section of the company, providing a space for collaboration, new ideas, and new initiatives.
The cross-departmental collaboration has proven to be an essential ingredient in keeping the triple bottom line front and center amidst the twists and turns of the solar industry.
Like other Certified B Corps, we are a for-profit business, and there is always the tug towards prioritizing our operations to maximize profits. Having employees engaged in specific 3BL goals as part of a company-sanctioned committee helps us keep our People and Planet bottom lines top of mind.
Looking Forward
Since publishing our 2019 Impact Report, Pivot has set an ambitious goal to raise our score on the B Impact Assessment by at least 12.5 points in 2020. The 3BL Steering Committee is leading this effort, but it will require input and engagement from all corners of the company. By building our 3BL metrics into our corporate goals for the year, we are ensuring that we continue to live our triple bottom line values.
We encourage other businesses and individuals to join us on this journey. The first step for any company looking to expand its impact is to take the free B Corp Assessment. Whether or not your company becomes certified in the end, the tool is helpful to see where your company stands relative to others and to identify areas of improvement. We can all take steps to measure our impact, challenge business as usual, and create lasting positive change.