Pivot Energy Announces Massive Project to Illuminate the Dark Side of the Moon
By Pivot Energy April 1 2019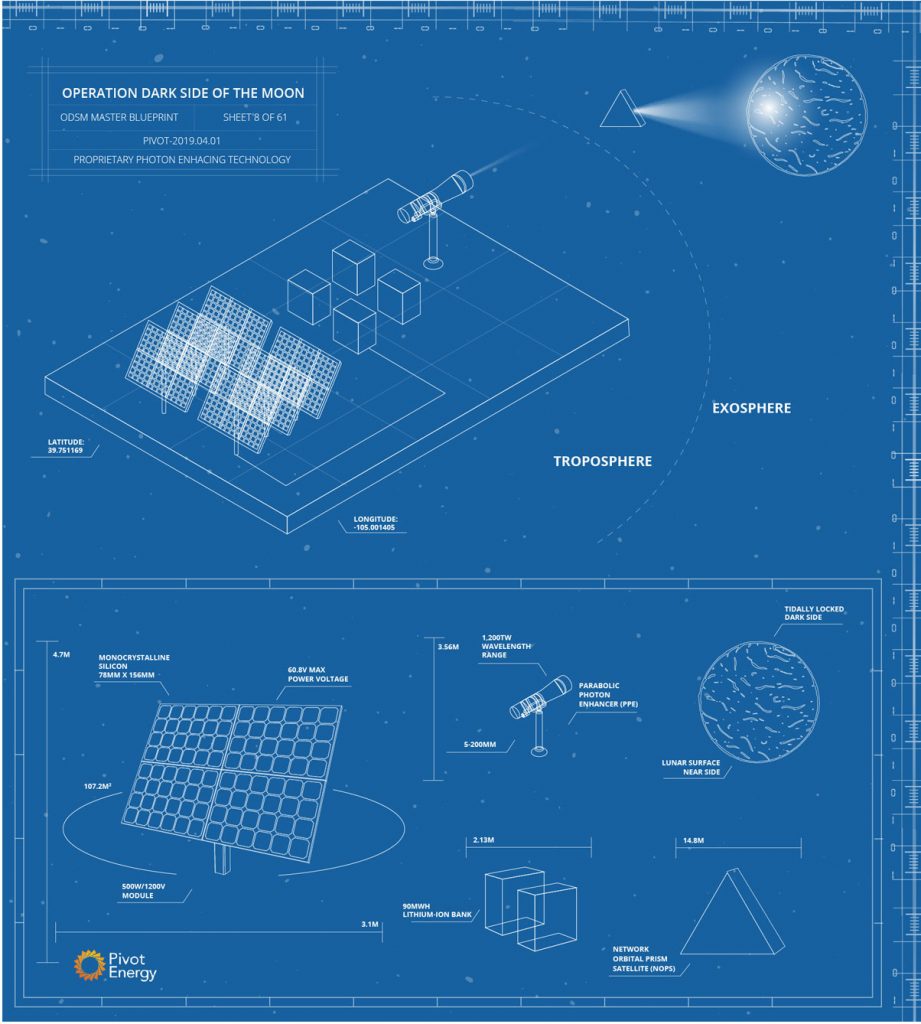 Ground-breaking new project demonstrates how far solar and energy storage have come.
Edit: Happy April Fools' Day! We may not be illuminating the dark side of the Moon anytime soon, but we are illuminating the homes of families, businesses, and friends with the power of the Sun.
Denver, CO (April 1, 2019) — Today, Pivot Energy announced massive new plans to bring the benefits of solar energy to an area of the lunar surface that has never seen the Sun: the dark side of the Moon. The company released detailed blueprints of how they plan to combine a community solar and storage project with proprietary photon enhancing equipment to illuminate the Moon's dark side.
"We want to make a bold statement about just how far solar and energy storage has come in recent years," said Pivot Energy's CEO Rick Hunter. "Due to the plummeting cost of these technologies, we can now cost-effectively light large areas. This was unthinkable just three years ago."
The cutting-edge project, named "Operation Dark Side of the Moon," is Pivot's largest project to date, and represents the first time a solar company has attempted to deliver clean solar energy on a planetary surface other than the Earth.
The project will feature a 220 megawatt (MW) solar array, paired with a 90 megawatt hour (MWh) lithium-ion battery bank which will provide enough clean energy to power a Parabolic Photon Enhancer (PPE). The PPE will deliver a concentrated photon beam 31 million miles into space, to a Network Orbital Prism Satellite (NOPS) positioned in orbit around the Moon, refracting and redirecting the beam of light onto the Moon's unlit surface.
The project is being funded by Pivot Energy and a wealthy, private donor who wishes to remain anonymous. The donor has stated her reason for helping make this project a reality, "The fact is that we already have the tools needed to beat global warming. We just need to have the political will to advance these technologies at a more rapid pace. If we can light the Moon with solar, there's no reason we can't power the Earth with it too."
Mr. Hunter added, "We chose April 1 to announce this exciting project because we want everyone to know that this is a stunt with a higher purpose."
Media Contact:
Nate Watters, Pivot Energy Communications
720-628-3132 nate@rival-communications.com