Maximizing Your Company's Impact with Offsite Solar
By Pivot Energy June 15 2022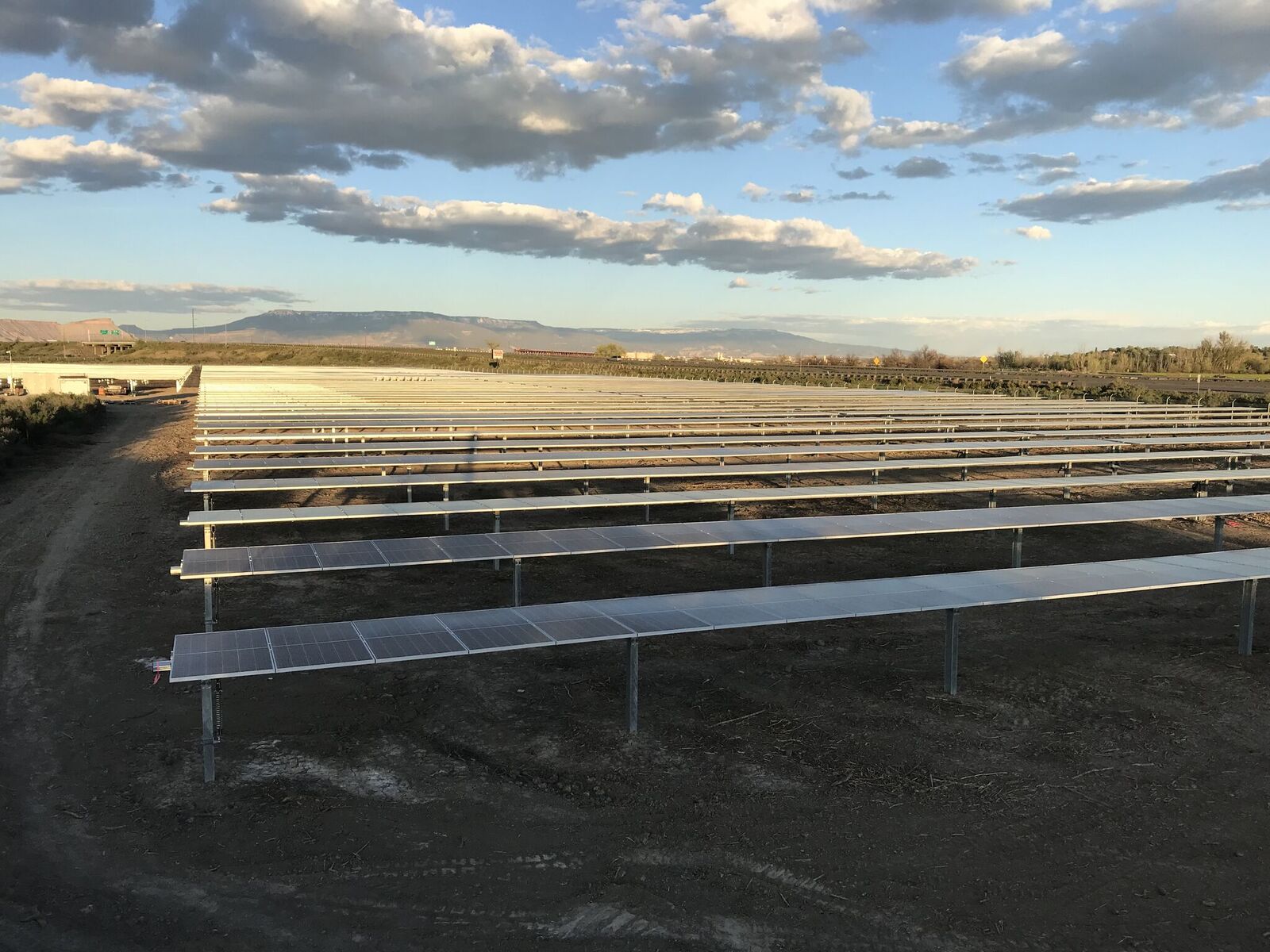 Companies make the switch to renewable energy for a wide range of economic, environmental, and social reasons. The economics of solar projects have improved immensely over the last decade due to the dropping costs and the creation of new financing options. However, the social and environmental elements of corporate procurement have only become more complex. For example, it's fantastic to say that your company is procuring 15 megawatts of solar energy, but what does that really mean in terms of impact?
As corporate environmental commitments have become more popular, businesses have gained a better understanding of the role they play in environmental and social issues. This shift in awareness has led to sustainably-minded businesses demanding more out of their clean energy procurement. In this blog, we will explore the most common renewable energy procurement options and how they measure up in terms of environmental and social impact.
Maximizing Your Company's Impact
For large companies with significant Environmental, Social, and Governance (ESG) goals, procuring offsite renewable energy, even as an addition to an existing onsite portfolio, is an excellent way to maximize impact.
However, it's important to understand that how and where offsite renewable energy is developed can result in very different outcomes. The best offsite procurement options will maximize your impact on a variety of fronts: emissions reductions, habitat preservation, local economic development, and much more. As depicted in the graphic below, renewable energy procurement options can be ranked based on a combination of environmental and social impact.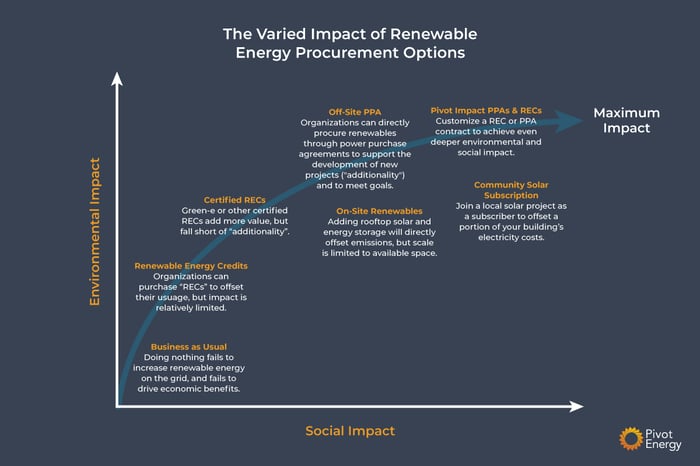 Offsite Renewable Energy Procurement Options
Renewable Energy Certificates
If your business is only interested in addressing the Scope 2 emissions associated with its current electricity consumption, purchasing Renewable Energy Certificates (RECs) is a good place to start. Purchasing RECs allows your company to "claim" the renewable component of the renewable energy that is produced.
RECs offer some environmental benefits, particularly emissions reduction and contributions to cleaner air and water. However, even Certified RECs, which meet stricter environmental requirements, fall short in a category called "additionality," as this type of procurement does not directly contribute to the building of "additional" new clean energy projects.
Offsite Power Purchase Agreements
An offsite power purchase agreement (PPA), in which your company directly procures renewable energy produced from a specific, large-scale offsite project, enables you to claim additionality and have more influence over environmental impact. For example, your company may be able to select a project based on a location that maximizes avoided emissions or even one that hosts an onsite pollinator habitat by growing native plants around the solar panels. An additional benefit of an off-site PPA is that it may be possible to achieve net positive cash flows over the life of the contract, depending on how it is structured and broader market conditions.
A conventional off-site PPA typically falls short of maximum social impact, as you may not be able to influence how the project is developed, the procurement of materials from responsible supply chains, or how the local community is involved.
Community Solar Subscriptions
Another offsite option similar to this arrangement is a community solar subscription, where your company subscribes to a local solar project for a set amount of solar energy to offset your own energy consumption.
A community solar subscription offers slightly less impact than PPAs on the environmental front for two reasons. First, community solar subscriptions often do not include the transfer or RECs, which underpin environmental claims. Second, your business will likely have minimal control over the project's location selection and development. However, this option affords greater social impact opportunity, particularly in how community solar projects foster affordable access to clean energy for households.
Pivot Impact PPAs and Impact RECs
The option that maximizes both social and environmental benefits is obtaining Impact RECs from Pivot, particularly when bundled with an Impact PPA for the clean energy from the project you helped develop. Pivot will work with your company to develop a solar project that aligns with your company's impact priorities beyond renewable electricity generation, such as project placement, responsible development, and local reinvestment. When the project comes online, your company purchases the associated RECs as well as the energy produced if desired.
Through Impact PPAs and Impact RECs, your business has the power to achieve the largest impact both directly through project enhancements and indirectly through siting and reinvestment considerations. This maximizes potential environmental benefits by bringing new clean energy to the grid using the most rigorous responsible development standards. Particularly in communities where renewable energy projects are developed as an alternative to fossil fuel projects, the additionality benefits are immense. The project can also be tailored to hit key social impact priorities, such as increasing access to clean energy for local income-limited families, addressing issues of diversity, hosting community learning and education sessions, and much more.
Importantly, this type of project generates additional impact as it generates revenue, as a portion of revenue is reinvested in environmental and/or social impact endeavors based on your company's priorities.
Planning for the Future
When developing a renewable energy procurement strategy, it's important to consider how to maximize the positive social and environmental impacts of your investments. Doing so is critical to not only meeting internal environmental and social impact goals, but also to fulfilling the demands of ESG-minded consumers.
While any investment in renewable energy offers social and environmental benefits, if your company is looking to leverage your procurement choices for maximum impact, working with a certified B Corporation like Pivot Energy will set you up for success. We have developed projects across the nation, and doing right by people and the planet is inherent to our company mission. Contact the team at Pivot Energy today to maximize your impact.