Community Solar Markets: A State Review
By Pivot Energy June 7 2021
As many as 75% of households across the United States cannot install solar on their property because they rent, live in a multitenant building, or experience other mitigating problems. To address this issue, some states have introduced community solar (also known as shared solar) as an alternative for residential and commercial customers alike.
Community solar refers to local solar projects that are placed at an offsite location that nearby households can join through a subscription, similar to other services like Netflix or Bark Box. Each month, these households, or "subscribers," receive a credit on their utility bill for their portion of the power produced. This can reduce a household's annual utility bill and support the generation of clean energy to the electricity grid.
While community solar is expected to grow exponentially over the next five years, about 22 states, plus Washington, DC already have legislation in place — and Pivot is tracking the development in approximately five states. While Pivot's primary focus at this time is in Colorado, Minnesota, and New York — with over 400 MW in development or under management.
Each of these markets continue to evolve the state's programs, gaining ground on renewable energy goals and driving future growth for the industry.
Let's take a look at what's unique about these three community solar states. The table below shows a simple side-by-side comparison of the states' community solar programs.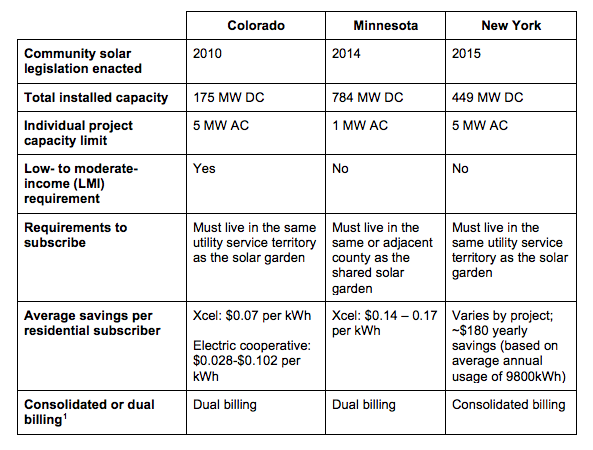 Colorado
Colorado became the first state to enact community solar legislation by passing the Community Solar Gardens Act (HB 1342) in 2010. Under the act, investor-owned utilities (IOUs) and private electric cooperatives are encouraged to build and operate community solar projects in Colorado. Since the bill was enacted, over 175 megawatts (MW) of community solar capacity has been built across the state.
To become a community solar subscriber in Colorado, a household must have an active electricity account with a Colorado-based utility. You must also live within the same utility service territory as the community solar garden. Every month, you will receive one bill from the utility that will include all the applicable electric charges and fees, as well as your community solar credits — offsetting all or most of your service charges. You will then receive a second invoice from your community solar provider for the discounted percentage in your community solar agreement. For example, if you sign up for 10% savings, you will receive your on-bill credits as mentioned, then you would pay a subscription fee of 90% of the credits shown on your utility bill. That 10% is yours to keep each month!
Residents of Colorado can considerably reduce their electricity costs by joining a community solar program. According to Xcel Energy—the largest IOU in the state—community solar subscribers receive 60 to 70% in utility cost savings, equivalent to $0.07 saved per kilowatt hour (kWh). If a resident subscribes through a rural electric cooperative, their savings could be between $0.028 and $0.102 per kWh.
Colorado was particularly lauded by policymakers and nonprofit groups for dedicating a portion of the community solar program output to serve low-income households. As such, at least 5% of each project is dedicated to lowering electricity costs for these customers.
Minnesota
The Minnesota State Legislature passed its first community solar bill in 2014. It required Xcel Energy (also one of the largest utilities in MN) to lead the state's most significant community solar program. It is also worth mentioning that other utility companies are not mandated to offer community solar, but many are voluntarily developing their own smaller programs across the state.
While Minnesota may have been several years behind Colorado in offering community solar, it is currently ranked first in the country in total community solar capacity installed. In the fourth quarter of 2020, the state reached 784 megawatts (MW DC) of operational capacity with 382 community solar projects completed.
To become a community solar subscriber in Minnesota, you must live in the same or adjacent county as the shared solar garden. Like in Colorado, households receive two bills for their participation in a community solar program. First, an electric bill from their utility that includes total electricity usage, fees, and the credits applied; and then a second invoice for the subscription fee outlined in their subscription agreement.
However, where Minnesota and Colorado differ is in their subscriber breakdown. The majority of the subscribed capacity in Minnesota is consumed by commercial customers and public entities (i.e., schools, government institutions, etc.). Residential subscribers account for only 11% of the total community solar capacity in the state. Additionally, unlike Colorado, Minnesota has not dedicated any project output to benefit low-income households with high energy cost burdens.
Nonetheless, residential community solar subscribers do see a significant decrease in their electricity costs. According to Xcel Energy, the average residential community solar subscriber receives a bill credit rate between $0.14 and $0.17 per kWh under the utility's community solar program.
New York
New York's community solar program is the youngest of the three, but its accelerated growth has led to nearly 300 projects to date, boasting more than 449 MW of community solar capacity installed. In July 2015, the New York Public Service Commission (PSC) enabled Community Distributed Generation (CDG). To enroll in a community solar program, the subscriber must live in the same utility service territory.
New York's community solar market has some key differences from what Minnesota and Colorado offer to their subscribers. More specifically, the state has a rather innovative bill crediting system, called the Value of Distributed Energy Resources, or VDER for short.
While Colorado and Minnesota follow a simple kWh-for-kWh credit exchange, the VDER system evaluates what dollar per kilowatt-hour rate a community solar project should provide a subscriber based on a "value-stack." This includes the time of day, location, and the environmental impact of the energy produced. As a result, the rate for each credit varies across different community solar projects and across utilities.
While the VDER stack initially introduced some confusion into the market regarding how to calculate and convey the value, it was met with early market adoption due to new incentives.
New York also is looking at low-income participation a bit differently. Currently in review, the Inclusive Community Solar Adder will not only expand access to community solar for low- to moderate-income households, but will also help traditionally underserved residents and neighborhoods save money — reducing operating costs for affordable housing and nonprofits serving disadvantaged communities.
Learn about community solar in your area
Despite taking different approaches to community solar, Minnesota, Colorado, and New York have successfully deployed community solar projects across their states.
For households that are curious about community solar in their area, Pivot is happy to help. We have over 400 MW of community solar developed or in development across eight states. Colorado residents in Xcel Energy and Black Hills Energy territories can sign up today!
To learn more, check out our community solar FAQ page or reach out to a member of our team today!
¹With consolidated billing, the customer will receive one electricity bill that shows the subscriber's net savings and is paid automatically through their normal utility payment process. Dual billing means the subscriber will receive two bills, one from their regular utility and one from the community solar project outlining savings information.