Pivot Energy
Subscriber & Portfolio Management Software
Pivot's community solar management software, SunCentral, is a one-stop shop for both subscribers and asset managers.
Overview
Subscriber Management Software
Pivot provides a seamless community solar subscriber and project management experience through SunCentral. SunCentral is a white-labeled, cloud-based community solar software solution that streamlines subscriber management, billing, and communications. As a project developer and a software platform owner, our team leverages lessons learned from the development space to bridge the gap between customers and project owners.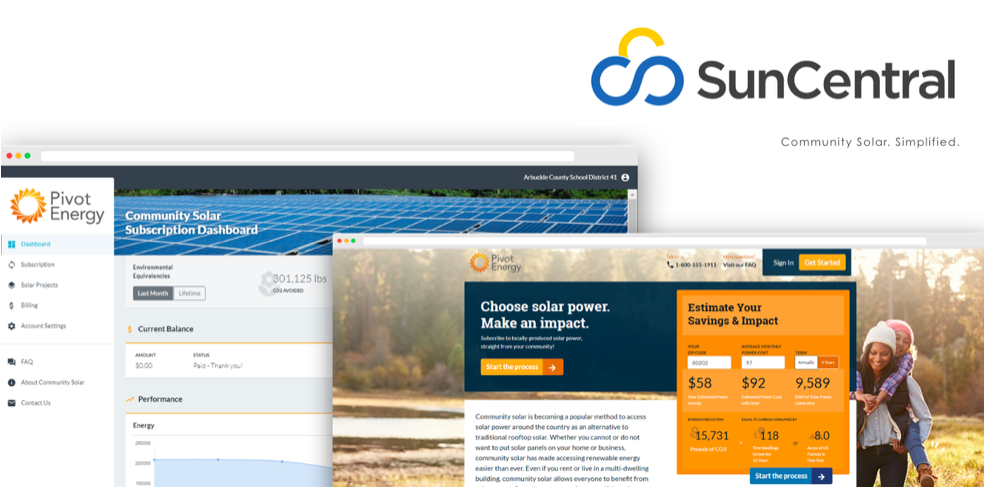 Customers will experience a seamless interface for billing, account administration, auto bill pay, and subscription management. SunCentral's built-in algorithms will help you control churn and customer renewals so your solar gardens will always be in compliance.
The cloud platform actively engages subscribers and waitlisted customers regarding their community solar project allocation, payment status, and houses educational resources to keep the entire population of subscribers engaged and ready for program participation. Should your customers have questions or billing issues we will be available to support them via phone, email, and chat. If a customer's subscription has come to an end, we'll work with your waitlist to make sure that the spot is filled immediately to reduce revenue downtime.