Pivot Energy Announces Partnership with Life Storage on 21-Project Solar Portfolio
By Pivot Energy June 22 2022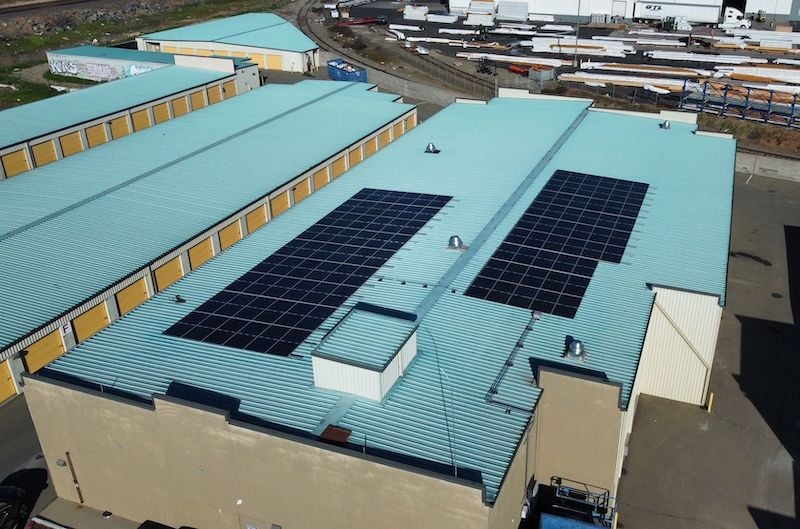 Pivot Energy is excited to announce its new partnership with Life Storage, a national self storage company, with a series of 21 solar projects located across multiple states. Over 20 years, the projects are expected to avoid carbon emissions equivalent to taking 350 cars off the road for one year.
This series of projects will expand Life Storage's solar repertoire on the east coast and represents their first solar projects in California. Nine of the California projects have already been completed, with locations near Sacramento and Woodland, and 8 additional projects will be constructed in the Golden State by year's end. The remaining projects in the Northeast are expected to be completed in late 2022.
Life Storage and Pivot Energy both proudly operate with an ESG strategy that reflects their commitment to prioritizing environmentalism, social responsibility, and good governance. These projects will serve Life Storage's ESG goals by improving their energy consumption profile and overall environmental footprint, helping to avoid air pollution, water pollution, and reduce carbon emissions in the local communities where the projects are located.
Erik Bruner, Director of Business Development for Pivot Energy said, "We are proud to be developing this solar portfolio for a company like Life Storage that is also firmly committed to ambitious ESG goals. Solar is a fantastic step in making an operation more sustainable and we hope to see more self storage businesses inspired by Life Storage's green leadership. Pivot Energy looks forward to continuing to work with Life Storage as they expand their solar footprint."
Life Storage is thrilled to be improving its environmental footprint with solar. Self storage facilities are an ideal candidate for rooftop solar, with an abundance of unused roof space and significant on-site energy demands. These projects are only the start of Life Storage's solar adoption strategy, as the company plans to expand solar across its portfolio of facilities in the coming years.
Eric Schlegel, Project Manager for Design and Sustainability at Life Storage said, "Pivot Energy has been a great partner as we work to develop solar arrays across our nationwide portfolio of self storage facilities. Their combination of national expertise and commitment to helping companies accomplish their ESG goals has made them an ideal partner in this endeavor. We are excited for the completion of these projects and the benefits they will bring for our customers, the communities we operate in, and for our investors."
About Pivot Energy
Pivot Energy is a national solar provider that develops, finances, builds, owns, and manages solar and energy storage projects. Pivot offers a distributed energy platform that includes a range of services and software aimed at serving the full solar ecosystem. Pivot is a Certified B-Corporation that proudly follows a corporate strategy aimed at providing a positive impact on society as measured by Environmental stewardship, Social leadership, and responsible Governance (ESG) factors. Learn more at pivotenergy.net.
About Life Storage, Inc.
Life Storage, Inc. is a self-administered and self-managed equity REIT that is in the business of acquiring and managing self-storage facilities. Located in Buffalo, New York, the Company operates over 1,100 storage facilities in 36 states. The Company serves both residential and commercial storage customers with storage units rented by month. Life Storage consistently provides responsive service to approximately 625,000 customers, making it a leader in the industry. For more information visit http://invest.lifestorage.com.