Host Site vs. Traditional Solar
By Pivot Energy November 18 2020
Whether you have looked at solar previously or it has never been something you have considered before, Solar Massachusetts Renewable Target (SMART) is a game-changer that should be on any Massachusett business owner's radar. The state-approved incentive program is a paradigm shift away from traditional solar, only attainable to those businesses that could afford to purchase or lease a system. Now, solar developers can secure host-site agreements with building owners, paying you instead of the other way around.
How A Solar Host Site Does Is Differ From Traditional On-site Solar
On-site solar refers to a solar power system installed directly on your property. There are numerous benefits to going solar for your business, but you traditionally had to either purchase or lease an array from a solar developer to access these benefits. However, developers can deploy systems and sell all that energy directly into the distribution grid thanks to the SMART program.
Similar to telecommunication companies that pay property owners to host a cell tower, developers can now pay property owners to site systems on the grid that they build, own, and maintain. The result is passive income, turning your underutilized rooftop, parking lot, or empty field into a revenue stream.
The table below provides a more detailed comparison between community solar and on-site solar: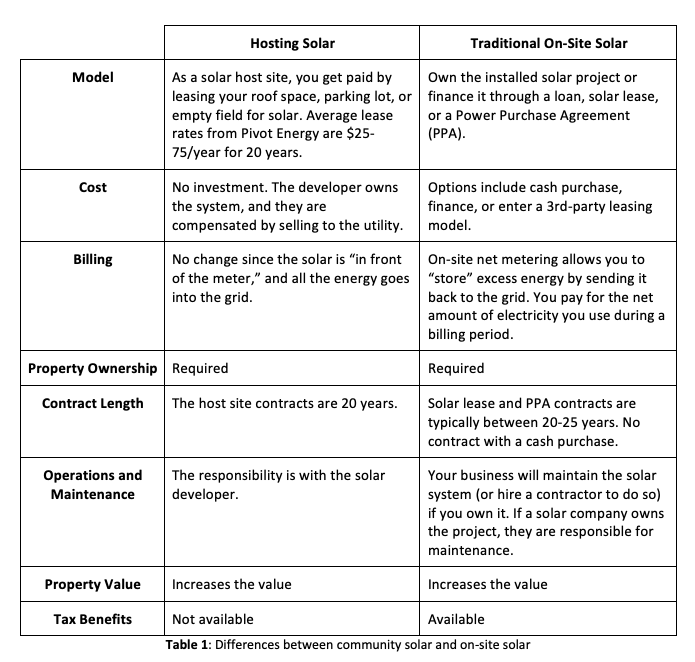 There Is No Investment Required To Host Solar
As a host site for solar, you lease your roof space, parking lot, or empty field for a solar array. These projects are, in turn, owned, developed, and maintained by a solar developer. Developers like Pivot Energy then enter long term "sell-all" contracts with investment-grade utilities. Because these systems are not intended to offset a building's usage but instead "green" the grid and provide local, reliable power to the utilities, the property owner is not on the hook for having to own the system. They simply offer up the available real estate and, from there, can receive guaranteed fixed income by becoming a host site.
Hosted Solar Is New In The U.S.
The state-approved program that made this possible is what is known in the solar industry as a feed-in-tariff. This model is very established in the European Union, where they have high levels of renewable energy on the grid. Traditional on-site solar is referred to as "Behind the Meter," meaning its benefit is first and foremost for the meter or meters the system was intended to offset. Together with this electric bill savings, the system owner also received tax benefits and other ancillary benefits. However, such systems also require large amounts of capital, and given the highly customized nature, there are often long sales cycles. A Feed-in-Tariff model reduces the complexity and is a clear market signal to developers that the utility is serious about procuring more clean energy. Now, you do not have to have a massive solar farm, coal, or gas-fired plant to sell to the utility. Instead, smaller distributed systems near energy loads are favorable and more resilient. In turn, developers can offer host site arrangements to building owners.
How To Know If Your Building Qualifies For Hosted Solar
In Massachusetts, business owners in Eversource, National Grid, and Unitil territory can host solar by working with an experienced solar developer. Underutilized assets like rooftops, parking lots, and empty fields can become host sites for solar energy, and system owners can unlock 20 years of predictable income streams. Now more than ever, by participating in SMART, your business can boost its Net Operating Income with a low-risk and state-approved incentive program. With third-party owned and developed systems available through Pivot Energy's Site Lease model, building owners do not have to invest a dollar or maintain the system to benefit from the program.
Massachusetts Building Owner?
Earn Money From Your Roof with Pivot